The screenshots below are from Mac OS X 10.0-10.4.
For Leopard (10.5) and above, click here.

Start Mac Mail. Depending on your version, it may have an icon like this:




If this is your first mail account, the welcome dialog may come up right away, and you can skip to the next step.
Otherwise, under the Mail menu, select Preferences, then select the "Accounts" (@) tab, then click the Plus sign (+) symbol in the lower-left corner to add an account.

A dialog similar to this should come up: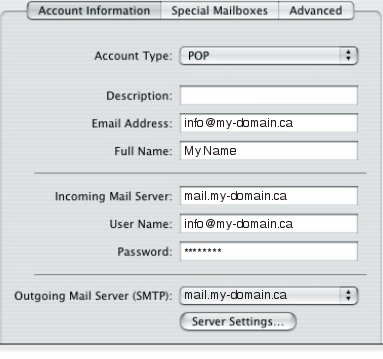 Enter a suitable Description and your full Email Address, then the Full Name you'd like to appear in the "From" line of your emails.
For Incoming Mail Server enter mail.my-domain.ca (substitute your domain name).
Your User Name is your full email address, and Password your email password. To the right of Outgoing Mail Server (SMTP), select the dropdown and select Add Server. You should get a dialog like this: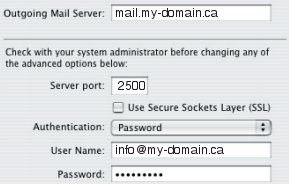 Set the Outgoing Mail Server to be mail.my-domain.ca (substitute your domain name).
Many ISPs now block outgoing port 25 to reduce spam - to find out what ports are available, click here.
Change the Server port to one of the available server ports revealed by the port tester (26 or 2500 are common ones).
Make sure Authentication is set to Password. The User Name should be your full email address, and Password should be set to the password for that email.

Click Ok, then close the Accounts dialog (making sure to Save if prompted), and you're done!